Saturday, October 29, 2005

Far away
waiting for my baby to come online. just hope we could meet tomorrow after my work. it'd be nice to have someone to have a meal with me. hadnt talk to my baby for quite sometime.
to people who tag on my tagboard and refuse to disclose their identity. its irritaiting. if you want to care for me and stuff, just let me know who you are. i'd get piss off if you dun disclose who you are. and i hate people who do that. if you tell me who you are, at least i can appreciate your kindness, but NO! you dont want to say. stupid...piss me off.
people, let me know who you are when you tag, k? dont use "someone", "anonymous" or other thing. argh! irritating
quite a good day today. partly because of what happen yesterday. i love how things go on smoothly...i can sit back and watch the day go by. but i miss my baby.
and i miss casilda. and woot* schools starting already. so cas darling, we'll see each other real soon. looking forward? i sure am, sweetie. <3
hope you day today and tomorrow will be pleasant.
quote of the day :
love yourself, then you can love others
hydefied - @ 15:46

Friday, October 28, 2005

SCAR
- tuesday 25/10/2005 -
sam baby duah me today. never go gai gai with me. in the end, i went out with james loh. he came and fetch me lei. so good. i want my future boyfriend or husband to own a car. can fetch me go gai gai. james good la, fetch me home too. haha. so good to have pple sayang-ing me all the time. pampered la. hope to meet up with sam baby soon. stupid. duah me.
- thursday 27/10/2005 -
met up with cousin angeline. it was FUN FUN FUN. went to watch "corpse bride". it was ok, abit disappointing la, but its still nice. i enjoyed it. quite funny. then after that, we went to take neoprint. lotsa laughter again. then go gai gai...walk here walk there. then go eat sakae sushi. hao hao ci wor. but very full. had so many things to chat about. it was awesome. play arcade la. lotsa fun and laughter too. =)
hehe. jie, thanks for the treats wor~ *kisses & hugs*
hydefied - @ 14:19

Thursday, October 27, 2005

me & cousin angeline. 27102005
Posted by Picasa
hydefied - @ 23:10

My New Man! handsome? lol. no la, how can i hook up such a yandao one? i still like another guy
Posted by Picasa
hydefied - @ 21:38

Wednesday, October 26, 2005

End of the World
did this quiz alomst 9 months ago. shall see the changes now. =)
Basics
first name: Alicia
middle name: Ang
last name: WanChin
nicknames: Cia-
gender: XX Chromosomes
age: 17
birthday: 22/06/1988
height: 159cm [see, i've grown taller]
hair color: Red
do you wear glasses or contacts: Glasses
do you have braces: and pay $2000? No..
is your hair long or short: Short
where were you born: Sg
current location: Home
zodiac sign: Cancer
how many languages do you know: 4
bad habits: Eh..too many
piercings you have: None
piercings you want: None
tattoos you have: none.
tattoos you want: None
today's date: 26/10/05
the time: 1240hr
family
mother's name: Doreen
father's name: Eng Hwa
brothers name: Shawns
isters name: Karen
favorite aunt: 4th Aunt
favorite uncle: 4th Uncle
favorite grandparent: ???
worst relative: Mostly from my daddy de side de..
best relative: Family, Cousin Angeline
do you get along with your parents: Yes
does anyone in your family understand you?: Mummy
pets
do you have any pets: Yes
what are their names: lazy tortoise
school
are you still in school: Yes
favorite grade: AD
least favorite grade: F
favorite teacher: Arul, Pat Koh, ACC
least favorite teacher: a lot
favorite subject: English, His3, Maths
Least favorite subject: none at the moment
play any sports on the school's team: No
do/did you do any extracurricular activities: i've 4
favorite memory: spending time with my friends
favorites
number: 2
clothing brand: no pref
shoes: slipper
tv show: Who's line is it anyway
vegetable: cabage
fruit: mango, banana..
movie: Spiderman
actor: Brad Pitt!, Tobey Maguire
actress: Catherine Zeta Jones, Nicole Kidman
candy: ..err..
gum: Peppermint
Flavored Scent: I don't apply de..
candy bar: snickers, mars, twix
ice cream flavor: Vanilla, Peppermint
color: pink, blue, Black
season: Autumn, Spring
holiday: Chinese New Year
rapper: Eminem
type of music: J-pop, K-pop, Classical
thing in your room: closet, bed, diaries, table, stuffed toys, laptop, hifi set, dvd player, tv :)
place to be: Home
radio station: 98.7FM
overall
food: No pref
fast food:LJS, Mos Burger, Yoshinoya
shape: Heart, Diamond
country: Japan, Canada, Switzerland, Egypt
state: Toronto, Tokyo, Hokkaido
boys name: Adam, Chris, Leon
girls name: Annette, Claire
mall: BORING
board game: Cluedo, Game Of Life
swear word: Fuck, Asswipes
month: June, December
whats the first thing that comes to mind when you hear
eminem: rapper
dog: cute!
hot: horny?
nsync: Justin Timberlake
orange: Bright
fuck: when?
black: mysterious
rainbow: Semi-circle thingy with 7 colors
cherry: no
cucumber: Yuck
shark: Crunch
lifehouse: ...
bat: A type of food
leather: Attitude
whip: pain~
america: twin tower
water: refreshing
volcano: lava
this or that
rock or rap: rock
rock or pop: Pop
rock or r&b: RnB
rock or metal: Metal
rap or pop: Rap
rap or r&b: r&b
rap or metal: Metal
pop or r&b: pop
linkin park or limp bizkit: linkin park
tool or korn: none
selena or jennifer lopez: Neither
hot or cold: Cold
winter or summer: Winter
shakira or britney: Shakira
icp or eminem: eminem
mtv or vh1: mtv
buffy or angel: Buffy!
dawson's creek or gilmore girls: neither
football or basketball: basketball
orange or red: red
yellow or green: yellow
purple or pink: pink
inside or outside: inside
weed or alcohol: alcohol
tattoos or piercings: neither
prep or punk: Punk
slut or whore: Whore
private life
do you have a boyfriend or girlfriend: No
crush: Quite a number
do you love anyone right now: Yes
have you ever been in love: Yes
how many people broke your heart: er..
do you go by looks or personality: Personality
ever kiss a friend: Yes
do you smoke: no
do you smoke weed: no
beer good or beer bad: beer bad!
are you the sissy who drinks wine coolers: I dun drink
do you like smirnoff ice: no
prefer beer or liquor: i dun drink
would you ever
bungee jump: No
sky dive: No
swim with dolphins: Maybe
scuba dive: maybe
go rock climbing: yeah
eat shit for $1,000,000: depends
steal a friend's boyfriend/girlfriend: Never
cross-dress: Yes
lie to the police: depends
run from the police: depends
walk up to a stranger and kiss them: NO
walk out of a restaurant without paying: ya..dad 4got to pay
have you ever
been to michigan: no
gotten really REALLY wasted: no
gone to jail or juvi: no
skateboarded: no
stolen anything: yes, i was immature then
pegged someone in the head with a snowball: nope
broken a beer bottle: no...
gotten into a bar, under-aged: no..
kissed someone of the same sex: yes
gone on a road trip: no
been to a concert: yes
been to another country: ya..Thailand, Malaysia, hong kong
talked back to an adult: Yes
got pulled over: pulled over?? no
broke a law: yeah..
given money to a homeless person: ya
cried to get out of trouble: yeah
kissed a friend's brother or sister: no..
kissed a brother or sister's friend: no..
opinions
what do you think...
about pop music: nice melody
about boy bands: all the same, BORING
about flag burning: fuckers. No respect
music: rocking my world
where do you think you'll be in 10 years: happily in love and earning big bucks
who do you think you'll still be friends with in 5 years: Casilda, Yuann, Xiann
what did you do
last birthday: Stayed @ home
last weekend: Working. hurhur
Christmas: celebrate mummy's b'day
Thanksgiving: ..err..dun celebrate
the last
thing you ate: Cheesy Nachos
thing you drank: water
thing you wore: t-shirt & shorts
place you went: my room
person you saw: Mummy
person you talked to: Casilda
song you heard: From beginning til now
now
what are you eating: nothing
what are you drinking: nothing
what are you wearing: same stuffs
any shoes on: no
hair: normal
listening to: nth
yes or no
are you a vegetarian: yeah
do you like cows: noo
are you a bitch: yes and no
are you artistic: no
are you a fast runner: no
can you ski: no
are you british: no
do you want to spear britney: yes..at times
did you ever give barbie a haircut: yes
would you eat mac & cheese with hot dogs in it: yes
do you think disney creators were on acid when they made alice in wonderland: no..
are you straight: Yes of course
are you short: Yes, always...
are you tall: yeah
do you own a bright blue shirt: no
how about pink pants: no
are you evil: YES! 100%
did you ever know someone who had a mullet: no
do you like marilyn manson: Yes
do you shop at hot topic: no
random questions
if you could be any animal, what would you be: bird
if you had to eat one thing for the rest of your life, what would it be: bread
do you remember any of your dreams: sometimes
do you dream in color or black and white: colour
do you admit when you need help with a problem: No
can people read you like a book: no
what's your biggest fear: myself, the unknown
do you talk a lot: depends
are you afraid of clowns: no
do you like spiders: NO
how about grape kool-aid: eh?
can you drive: underage
are you spoiled: i think i am, at times
are you anti-social: depends
hydefied - @ 15:52

vogue
suffering from gastric pain, and i tried eating. wrong move. felt an acute pain in my stomach. glad its getting much better
to casilda,
hi sweetie, thanks for yesterday. i would have cried out if i hadnt talk to you, thanks so so much for listening. i really appreciate it. thanks for comforting. *muack* i love love you. cheers. yeah~ i can finally see you on thurs.
to cousin angeline,
xie xie, arigato and thanks so much for being there for me. i was on the verge of crying after the conversation with my friend. i am glad everything is fine now. no matter what. thanks. love you!
thanks for "sayang" ing me la. i feel so pampered le. *muack* i am so appreciative and fortunate to have so many people, friends who love me. and I LOVE ALL OF YOU TOO!!
hydefied - @ 11:41

Tuesday, October 25, 2005

Duty
Does it mean that i'll get a boyfriend if i am slim? what kind of logic is this? does it mean that if i am very very fat, obese, i will never get a stead? is that love? NO! its fucking not.
love is really shallow. true love never existed. it vanish, vapourise, sublime. everything. love is only for the thin and beautiful. love is never for the fat and ugly. we're never going to fall in love cuz we have weight issue.
i dislike how love is defined now. its so shallow and fucking stupid. if thats love, i am starting to hate it
fuck you assholes. fuck you
hydefied - @ 15:40

Present
first thing first, who is anonymouse? stop killing me with the fucking suspense and tell me who u are. dun piss me off, ok?
at times, what's the point of having a public diary when no one reads it? i am tempted to shut it down for good at times. but then, it took alot of people's time and effort to make it the way it is today, and shutting it down is letting them down. and myself.
i am reckless. i do things only when i like it. i am never a good girl. i may look and act like one. but many times, good is boring. bad is interesting. i want to be a naughty, horrible, self centered, mean bitch. i want to watch you die, bully you, seduce you.
and my dear gal, i am not your spare tyre. i am not someone you can look for only when your darling boyfriend deserts you. i feel like an idiot. i've always been to kind. and my kindness is always being taken advantage. let your man know how much you need him la. then, i wont feel used le.
just realise i have to work again this saturday and sunday. and also on deepavali. aww man..there goes my wonderful holiday. cannot watch tamil movie on the 1st le. hurhur...
i am so childish
i am immature
i am imperfect
perfection is boring
i adore imperfections
lastly, stop making me have the urge. i cant stand it anymore. i may go crazy. stop tempting me with everything. i feel weak. and in need of some help.
hydefied - @ 15:15

Sunday, October 23, 2005

For My Dear...
i guess its true. i can give you almost everything if you are nice to me. stupid and naive of me, but then, that's what i'd do. no wonder i am always cheated. yea. i guess so. uh-huh. i am a naive fuck.
i guess me and gary are the most lonely people in this planet earth. people desert us both for their steads. fucking unfair, i feel like a spare tyre. only used when al's stead neglect her. fuck fuck fuck fuck fuck fuck. ya. fuck me for all i care. enjoy your day with your steads.
fuck fuck fuck fuck fuck.. you can jolly well suck my dick if i have one!
i just realise i DON'T need men AT ALL. maybe for sex, other than that, i DONT even need them. i can be very independent. i dont have time to go shopping with them, i dont have time to kiss and hug and do all sorts of things with them. i am starting to see that i can be alone. i dont need men to even force themselves to love me. i can stand on my own two feet. yup. i know i can. and i AM confident i can. uh-huh.
kick me, hit me, bite me, slap me. dont you EVER treat me as your spare tire. i fucking hate that. i am me, not someone you go to, talk to when your steads neglect you. i love myself too much, i dont need men to do that anymore. i should be les, but then, les arent accepted. bugger. fuck fuck fuck. hur hur... i hate all of you. FUCKING SOB!!
i should have realise it all along. women can be independent. though at times i do want someone i can throw tantrum at or sa jiao at. but then, i realise men indeed are physical being.
i remembered jackie wu aka wu zhong xian once said, " nan ren shi chu sheng, dan nu ren pian ai xiao dong wu". its true, i show u why...
situation Alpha:
A and B are in love. but A is a flirt. A always cheat on B. one day B came home to find A in bed with another woman. then B cry la. cry. then A apologise, swear that he die die wont do it again. then B accept la.
note: but the thing is, we know A wont change, but we are weak and naive, we think they'll change for us. but do they? NO!!! they do it again and again. and beg for forgiveness again and again. and we stupidly forgive them.
women like bad guys. cuz they think they can influence the guy to change for them. its naive.
topic 2: women are always treated unfairly.
i always stand with the policy " all are equal". but its not always true.
situation A: *note that names are all fictional. any resemblances is pure coincidence!
Jack & Jill are married. then Jack feels that Jill cant satisfy his sexual pleasure. therefore, he had a mistress. then Jill found out, wanted to divource [sp] Jack. Jack accuses Jill of not being able to satisfy him, and he is "forced" to find another woman. and thus, Jill is blamed for Jack's mistake! lalala..how wonderful eh?
evaluation: we get blame for almost everything. when we give birth to a girl, we're blamed. seriously. woman can only give "X" chromosomes, its the guy who produces the "Y". therefore, dont blame your daughter-in-law if she give birth to a girl. blame it on your son! not us char bo, ok?!
realise that love is a shallow thing. it seems like loving a person for his/her quality, personality is no longer in existance. you will only get a bf if you have a hot body, you look beautiful and you can be bed easily. whatever happen to love? it seem to have vanish. love is no longer an emotional thing, its a physical thing. picture this
under the moonlight..
boy: aww baby, i had a wonderful night.
girl: me too.
-boy leans forward to kiss the girl-
girl: why do you love me?
boy: because you have a hot body. and you are willing to have sex with me
isnt that stupid. love has become so shallow. therefore, i'll love a man cause he has a hot hot body and good in bed. yeah. that's love? NO!! that is just LUST!! nobody understand what is love. nobody knows what's love. and frankly, neither do i. cause i am confused. the only thing i can get when i see love can be shown through an equation
LOVE = HOT BODY + SEX
yup, indeed, that's love! my oh my. i am totally confused! enlighten me then!
sick of ranting on and on. its not like anybody is going to read it. its like i am writing for the fun of writing. and as a medium to vent my frustration. i can picture myself...30 years from now. all alone. lol. i am crazy.
damn. i am cursing and swearing again. my tolerance level is running low, way low. feeling rather shitty lately. stress over alot of stuff. mood swings acting up again. and yes, i am starting to hate everyone whom i know. and i wish i hadnt known anyone, then i dont have to go through such agony. i wish i have no feelings. i wish i was all alone. i wish i have never existed
lastly, i wish that my wish is granted.
**note that this topic is my OWN view. i didnt mean to offend anyone, its my point of view. this blog is meant for me to vent my frustrations and hatred. therefore, if you are unhappy, there is nothing i can do.
-- i suck and i can do it well--
hydefied - @ 16:25

Saturday, October 22, 2005

from your letter......
Love does not need A REASON ...
Lady : Why do you like me..? Why do you love me?
Man : I can't tell the reason.. but I really like you..
Lady : You can't even tell me the reason... how can you say you like me? How can you say you love me?
Man : I really don't know the reason, but I can prove that I love you
Lady : Proof? No! I want you to tell me the reason. My friend's boyfriend can tell her why he loves her but not you!
Man : Ok..ok!!! Erm... because you are beautiful, because your voice is sweet, because you are caring, because you are loving, because you are thoughtful, because of your smile, because of your every movements.
The lady felt very satisfied with the man's answer.
Unfortunately, a few days later, the Lady met with an accident and became comma. The Guy then placed a letter by her side,
and here is the content:
Darling
Because of your sweet voice that I love you...
Now can you talk? No!
Therefore I cannot love you.
Because of your care and concern that I like you..
Now that you cannot show them,
therefore I cannot love you,
Because of your smile,
because of your every movements that I love you..
Now can you smile?
Now can you move?
No,
therefore I cannot love you...
If love needs a reason, like now,
there is no reason for me to love you anymore.
Do love need a reason? NO!
Therefore, I still love you...
And love doesn't need a reason
" Sometimes the best and the most beautiful things in the world
cannot be seen, cannot be touched, but can be felt in the heart "
hydefied - @ 17:07

SIGNAL
love as defined by the dictionary means great fondness of someone. read through alot of love story today. it didnt have happy ending, it was heart wrenching. i have yet to experience everything. i would give up everything just to have someone who could truly love me. its nice a wonderful feeling
your world seem wonderful suddenly. being in love is like having someone who show you endless concern. having someone to hug you when you are sad, crying. feeling the warm of the person when you feel cold. someone to be there for you 24-7 whenever you need him.
but til now, love is concealing itself very well..i never really had a good experience or encounter with love. to me, love will eventually lead to heart break. the more you give, the more pain you'll get when love starts fading away.
i really would want someone who can love me more than i can love him. maybe its my insecurity that made me want that. nothing is everlasting. the only thing that cant be shared is love. its just that 2 women can never share the same husband.
its this logic that make us selfish. i want to be selfish for once. i dun want to always share everything with everyone. i want something that i can have it. something just between 2 people.. i want to know the feeling of what its like to have someone there who'd love you always.
but then, reality is cruel! life is unfair...
~ love doesnt mean you have to have the person
~ love is letting he/she be happy
quote of the day :
I love being married. It's so great to find that one special person you want to annoy for the rest of your life. --
Rita Rudner
hydefied - @ 07:00

Trust
http://ngszeli.net/ngszeli/love/miss/
Chance upon this site. very touching. reading it. my heart is aching. i dunno why, maybe its the effect of the song? the words and everything. its nice, its always nice to have someone out there who loves you alot. love doesnt fade through time. i like that. endless love, devotion and faithful- ness.
i want to be in love. want to know how the feeling is like to be in love. the warmth of the person's hug. the lips of the one that pressed hard against yours. i like that feeling..
hydefied - @ 05:21

Friday, October 21, 2005

POWDER SNOW
so many things to say to so many people. shall write it all here. =)
- Casilda -
you've been a great pal to me. a sister who always takes care of me. always putting up to my nonsense and mood swings. thanks for always listening to all my complains and just being there for me when i feel shitty. thanks for all the encouragement and lovely times i've spent with you. i've never regretted knowing you. thanks for just being my best buddy! i love you! ("V")
- Chris -
my shifu. always there for me and taking care of me. i really appreciate everything that you have done for me. thanks for all the encouragement, and lending a listening ear. always hearing my endless complains. i enjoy and treasure the time we all spent in NP.
- Yuan Ee -
my bestest buddy cum khiam pa princess cum neoprint buddy. i am really thankful to have a friend like you. you are like a sister to me. always there for me when i am in trouble, i really am grateful especially the time we learnt of yean choi's sudden death. you brought so much joy and happiness into my life. i love you so much. thanks for being such a wonderful friend who cared for me, took care of me. i enjoy the talks we had everytime we meet. its been a joy just knowing you.
- Shu Xian -
one of my best buddy in secondary school. though we had quite a number of misunderstandings before. i am glad that all is well now. knowing you was truly a joy. you are such a wonderful friend who is very considerate, friendly, understanding and sweet. thanks for putting up to all my nonsense. thanks for just being there when i needed you. i couldnt imagine what could happen to me, esp after yc's death, if it wont for you and yuann. i am very grateful and i treasure all the times we spent. thank you for everything that you have done for me!
- James -
though we've only met not long ago. its very pleasant knowing you. you're very sweet. although at times, you do enjoy teasing me, i dont really mind. i feel very comfortable talking to you. i'd be quite bored and lonely if i'd not known you. the frequent sms and phone calls have been really enjoyable. thank you! =)
- Angeline -
my bestest and favourite cousin. always listening to all my complain patiently. i enjoy talking to you. always treating us to movies and snacks, i am grateful to have such a wonderful cousin like you. you're like a elder sister i never had. always encouraging me and cheering me up when i am down. and just being there for me. thank you. love you. =)
- San San -
you are the sweetest girl i've ever met. your smile is infectious. i learn so much from you. you are so hardworking. thank you for always being there for me. i enjoying being with you. thanks for showing so much concern. you're like a sister to me. always listening to my complains. and putting up with my short comings. i appreciate everything you have done for me.
- Firdaus -
my kor kor. you are the sweetest guy i know. you are very encouraging. always making me laugh with your actions. i enjoy just being with you. talking to you is indeed a joy. thanks for all your encouragements. i appreciate everything. and thanks for being such a wonderful kor kor to me. always taking care of me, defending me. kor kor, mei mei love you.
- Jerry -
someone i met through sports and wellness. i got to know you even better during the heritage tour thingy. you are different from most guys i know. you are someone who wont be embarrassed when a girl waves to you. you are enthusiastic. your laughter is infectious. i truly had lotsa fun during the heritage tour thingy. you are very friendly. i enjoy crapping with you all the time. and thanks for the encouragement you gave me during one session of adventure rope we had. though we didnt manage to complete the obstacle. you have been a wonderful partner, friend, buddy. thanks man, its been great knowing you. =)
hydefied - @ 17:55

As if...
-
name 20 people not in any order
1. James
2. Casilda
3. Chris
4. Yuan Ee
5. Sok Hiang
6. Sam
7. Siew Chin
8. Firdaus
9. Qiao Yi
10. Ian
11. Zheng Gen
12. Timothy
13. Sock Ying
14. Wei Zheng
15. San San
16. Merwin
17. Mike
18. Angeline
19. Louie
20. Karen
[1] How did you meet 13?
Primary school friend, then in same secondary school
[2] What would you do if you had never met 1?
my life will still go on as per normal, just that i'll be bored
[3] What do you honestly think of 10?
he's very nice. like a brother to me.
[4] If 3 dies tomorrow, what's the one thing you would do?
will be sad la. cuz good friend mah
[5] Would 2 & 11 make a good couple?
lol. i guess so. well..i hope so..
[6] Do you think 8 is hot?
yes. my kor kor is hot. lol
[7] Would 1 & 17 make a lovely couple?
then they'd be gay. and mike hates homosexual!!
[8] Tell me something about 11
he's rather impatient
[9] Do you know any of 3's family member?
nah~
[10] On a scale of 1-10, how cute is 14?
5. average la. quite cute sometimes
[11] What would you do if 4 had just professed their undying love for you?
then i'd be a lesbian. lmfao!!
[12] What language does 19 speak?
baby language. he's only a baby
[13] Who is 8 going out with?
his girlfriend =3 Zurah? i think that's how her name is spelt
[14] Would 5 & 18 make a good couple?
no. then they'd be lesbian. and lesbians arent accepted!
[15] When was the last time you talked to 6?
err..2 to 3 days ago
[16] What's 18's favourite band?
hmm...i dont know
[17] Does 4 have any sibling?
yup. an older sister
[18] Would you ever date 1?
well..it'd be nice
[19] Would you ever date 3?
well..maybe. but i thought should be dead according to qns no. 4
[20] Is 15 single?
yes.
[21] What is 19's last name?
Yong Bing
[22] What is 10's fantasy?
lmfao! how am i supposed to know
[23] Would 14 & 19 make a good couple?
unless 14 dun mind that 19's a baby. haha
[24] What school does 16 go to?
NP
[25]
What school does 1 go to?
he's working le
[26] Where does 9 live?
Teck Whye, if i didnt remember wrongly
[27] Would you make out with 1?
lol. maybe. but depends on the chemistry...
[28] Are 5 & 6 best friends?
nah, they dont even know each other
[29] Is 20 older than you?
nope. younger
[30] Is 17 ur ex?
nope. we're just good friends
[31] Do you see yourself with 12 & 18?
yup. 18 is my bestest cousin. and 12 is a great guy! =3
[32] How is 2?
she's my best buddy in NP. she never fails to cheer me up and entertain me. she gives me so much support and encouragement. she's very sweet and humorous, fun to be with and very caring towards her friends!
hydefied - @ 17:24

Thursday, October 20, 2005

YOU
well..i just realise the freedom of speech isnt so free afterall. seeing the number of people convicted for publishing racist comments. i start to wonder if blog really is a free place where i could voice my opinion. well....maybe its still safer to write it all down in an old conventional diary like we did when we were kids.
come to think of it, not all men are bad. there are exceptions, i cant condemn all just because of certain minority. i have got to be fair, there are still nice guys out there. i've met some who are really very sweet and considerate. people all like sex, but just dont go too extreme. sex isnt everything. your world wont become better if you just had sex with the sexiest woman alive [ something like that].
i want an ipod nano. maybe cuz its slim and very portable. i can slip it into my pocket without worrying of a bulge[sp]. but then when i compare the price, an ipod mini is still worthwhile. as i compare the price, a 4GB ipod nano cost bout $439, while a 4GB ipod mini cost bout $349. same memory space, but different prices......
quote of the day :
if you want to change the world, you gotta first change yourself.
hydefied - @ 07:04

Wednesday, October 19, 2005

xiann.ciaa.yuann
Posted by Picasa
hydefied - @ 18:03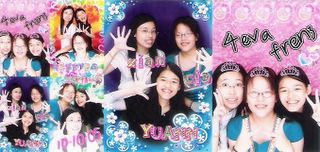 xiann` ciaa` yuann`
Posted by Picasa
hydefied - @ 17:46

ciaa` & Nick Shen =3
Posted by Picasa
hydefied - @ 17:45

Monday, October 17, 2005

Wishing
Ayumi Hamasaki's Arena Tour 2005 was very very nice. 4 discs. woot* and ayumi was beautiful. the best concert i've watched. it even comes with a bonus behind the scene and a q&a session featured in each of her tour. yea yea yea.
it has been raining for the past few days. well..i am not saying its bad. rain is good. at least, it isnt so hot. i like it when the weather is cool. i dun like feeling so sticky....bah..i am not making any sense here. i dunno what should i blog.
hope to meet up with my cousin soon. then we can go catch a movie and take neoprint. ho ho ho. that'd be very nice indeed. looking forward to that.
finally, i'll put up the quote of the day. been rather lazy to search for one, therefore, as you can see, most of my recent entry dont have one.
thus, the quote of the day :
I am free of all prejudice. I hate everyone equally. --
W.C Fields
(1880 - 1946)
hydefied - @ 13:57

Sunday, October 16, 2005

poker face
hadnt blog for bout 3days. and seriously, i dunno what more to write. life has been good. and everything's going on very smoothly and as expected..
not much interesting happenings too. i think singapore lacks good service and good customer. meet a loser cashier at amos cookies. seeing such attitude i got, i didnt feel like buying anymore. we've still a long way go to become a gracious society. given all the poor services and stuff. but then, not all are like that la. but i still dun like e attitude i am getting from them.
school will be starting real soon. cant wait for school to reopen. but then, i am going to get only 2 weeks of holiday for dec. sucks. i want my december holiday like when i was in secondary school. boo-hoo. unfair.
i miss cutie baby louie`
---- life is never fair . and it'll never be ----
hydefied - @ 15:08

Thursday, October 13, 2005

FRIEND II
lost track of time ever since i hadnt been working. well..yeah~ i finally realise i am so boring that guys dun find me interesting. what the hell do you want from us girls? to be easy? so that you can bed them easily? guys are not as simple. they're cunning.
maybe i should be gay man. easy. to hell with true love. no such thing as that anymore. both guys and gals cant be trusted. fuck you, arse-holes.
if i say my life has been very good, then i am lying. there has been many ups and downs. but the great thing was that i have finally met up with both shuxian and yuanee. it has been ages since we last met. so yea~ it was very very fun. there is two sides to a person. when i am fun, i can really be fun, out-going and when i am boring, i can bore you like hell. and you'll get sick and tired of my boring attitude. then if you dun like it, then you can jolly well fuck off, and i mean it!
whatever the case is, love isnt physical, you dun love a girl because she's beautiful on the outside. that isnt love, that is just lusting over physical beauty. what matters is the inside, isnt it? but then, it seems that many dun seem to know this knowledge. all they yearn for their partner is that he/she is sexy, beautiful. i dun deny i am attracted by handsome man. but by the end of the day, its the down to earth and faithful ones that i want to have. physical beauty is only for a period of time. we all grow old. and by around age 70. physical beauty will all vanish.
shallow bastards. all you care of is woman who are beautiful, willing to have sex with you and give you pleasure. fuck you. making me sick. everytime i talk to one, the topic always will lead to sex, sex and more sex. what man want from women is nothing but sex. they dun treat us as human, we're more like a thing/product to satisfy their sexual needs.
lastly, i may start to hate men!
hydefied - @ 08:55

Wednesday, October 12, 2005

FRIEND
ya ya ya. i noe i am boring. whatmore should i do? teach me. whatever is boring? someone who dun talk bout sex all the time? well...teach me then, i am boring so guys dun want me? fuck with that. like i want a guy or even need them. fuck.
teach me to become "un-boring" then, i wanna learn...but then, i dun need men. girls can do what guys can, except producing sperm. but then, fuck me for all i care. i dun give a damn shit. yea. i dont cuz it aint my damn bloody business. boo-hoo. shattered. after everything, i am still boring. damn. i hate myself.
fuck fuck fuck fuck fuck fuck fuck fuck
*edit
i am boring. so hate me for that. dun talk to me. like i should care then.
note to self: i should get to upset when people insult me.
hydefied - @ 13:06

Saturday, October 08, 2005

Hana
thank goodness ayumi has alot of songs for me to use as my title. yeah~ i love ayumi hamasaki. and i cant wait to get her lastest concert dvd. meeting shuxian and yuanee on monday! woo-hoo. but then, i think i've put on weight again due to the stress at work. siann
i need to lose weight again.SIAN!
hydefied - @ 11:26

Friday, October 07, 2005

A Song For XX
well....i shall use ayumi hamasaki's songs as my title from now on. til i run out of them. results is officially out today. did quite well.
IN1 : A
EG1 : A+
OS : C+
EPS1 : B+
CATS : C+
El Tech : A
DEFINITELY satisfied! didnt expect to fare well. was worried til i cant sleep last night.
no quote of the day today. will put them up again tomorrow! cheers people
hydefied - @ 11:18

Thursday, October 06, 2005

Surreal
well...finally, i've found the handphone that i want. Panasonic VS2. woo-hoo. well..went to work at orchard og and the same thing happened again. they insist that the little puny logo on my black tee is not accepted. what the fuck la.
results coming out tomorrow. *fingers crossed*. hope i did well, but faith isnt so strong. aww man..i dont like that. doing well is very important to me and i want to as least get 2 A for this exam. oh man....work again tomorrow. which is like fuck too. with the all black attire, i feel as though i am attending funeral. well..who's dead? damn!
its just four more days to endure. seem so near yet so far......
quote of the day : "The noblest pleasure is the joy of understanding." --
Leonardo Da Vinci
hydefied - @ 13:32

Wednesday, October 05, 2005

Panasonic VS2
Posted by Picasa
hydefied - @ 21:53

Panasonic VS2
Posted by Picasa
hydefied - @ 21:52

Depend On You
customer is always right. what the fuck? if PM lee hsien loong was my father. i want him to change that rule man. its like i think singaporean still arent up to e standard as a good customer. seriously, after working for bout a week. i finally understand why most promoter all si bei buay song la. when they come out of the toilet with wet hands, they start touching your clothes and making them disgustingly wet. fuck lor. mother never teach them personal hygiene is it?
and they start complaining this and that, like the pattern of your clothes and stuff. come on, we're only selling them 5 bucks each. then they make sure the clothes is in oerfect condition. ko ai pi ko ai qi! if you want clothes of good quality, then go buy branded stuff la, dun so cheap skate buy cheap cheap bo brand de la. wah lau...
it makes me very angry to see such people. have the urge to slap them but bo pian, customer always right. siann.
my job is officially ending on sunday. yeah~
hydefied - @ 13:52

Sunday, October 02, 2005

Dont Phunk With My Heart
work was like fuck. there's alot of rules and regulations. firstly, i have to be in black [ fully black ], i cant bring my handphone [ gotta surrender them to the security before i start work ], no sweets, food, blah blah blah. what the fuck, eh? damn it!
wont be going to the bbq. too bad...cant meet up with peeps la. i've gotta work the next day too, damn. working = hard. money aint easy to earn. therefore, note to self, must study very hard to earn big bucks. cant depend on man too much. poo...
life hadnt been much fun. well...cuz of work, i am drained of energy to go out. and i've gotta work 6 days a week, which is like fuck too. boo. sad. no time to meet up with yuann and peeps. i miss you all, especially cas. yuann. shuxian. so near yet so far. whatever. i need to rest. my legs are sore.
lastly,
There are two ways to slide easily through life; to believe everything or to doubt everything. Both ways save us from thinking. --
Alfred Korzybski
(1879 - 1950)
hydefied - @ 13:15