Friday, May 30, 2008

Graduation
Yeah! All good things must come to an end. More updates tomorrow when I uploaded the pictures to my computer!
Congrats All!
P/S I am so gonna missed lotsa people! =)
hydefied - @ 20:36

Saturday, May 24, 2008

Unspoken Happiness
I was just going through my table shelves and I saw one of the reasons of my happiness!
My Albums! I'm happy I bought the Guilty one online cuz Singapore version didn't have a photobook. I didn't care much about the poster as I've already got too many. Most of the albums are my birthday present, and mostly from my momma! =)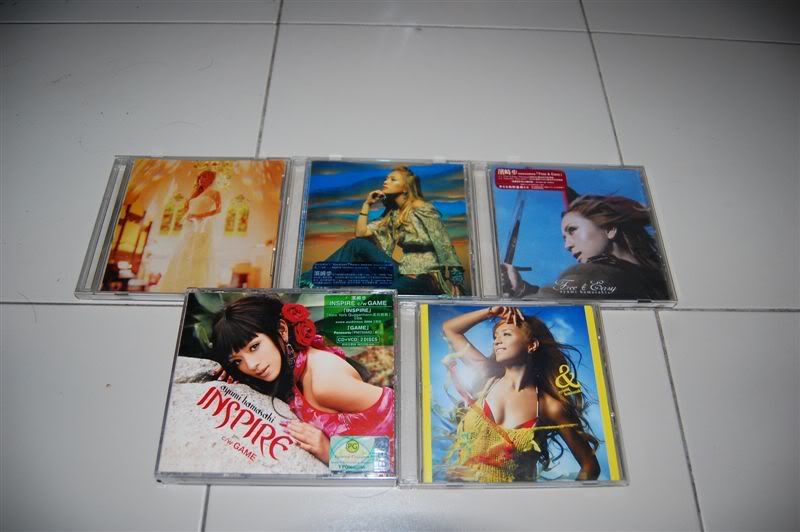 Singles! I'm quite selective when it comes to single. I only choose the ones that have nice covers.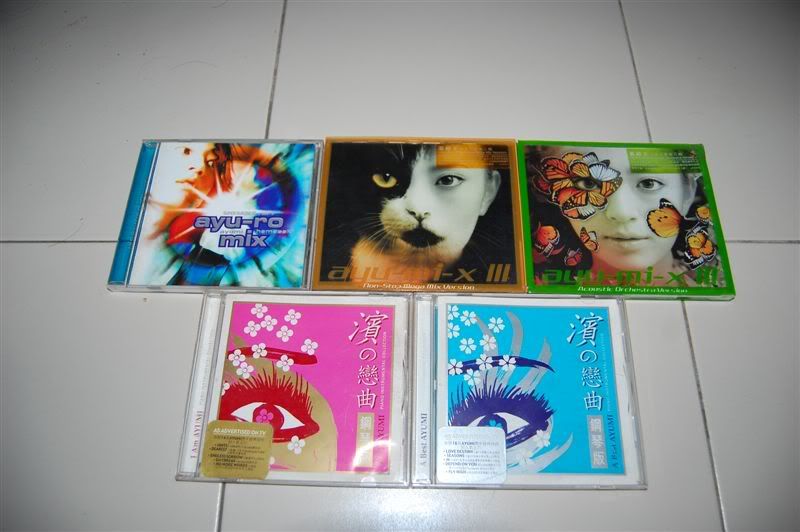 Remixes. I'm still saving up to get the Ayu-mix 6 -Gold- & -Silver-
A Best 2 was a birthday gift from Yuan Ee!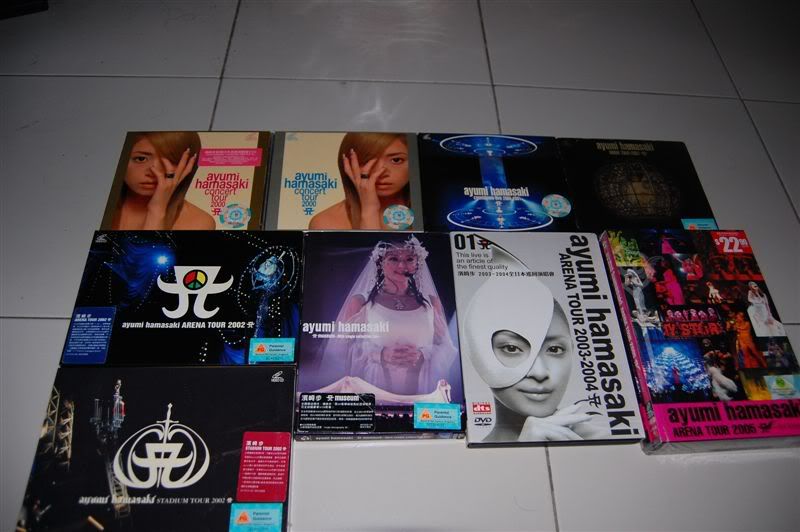 Concerts that I mostly watched once or twice! I'm still missing some of her recent ones. Saving up to get the (Miss)understood and Tour of Secrets.
=)
Lastly, a recent happyness I've mentioned earlier,
My Mirrorcle World (Both Versions!)
I'm a
crazy
HAPPY fan!
hydefied - @ 23:38

Wednesday, May 21, 2008

Happyness!
3 damn good reasons for my happyness! =) And it has just lifted my moods to a whole new level, which is good in a good kind of way. Yet to clear up the old messy room of mine. Running through rented movies again and again, and yes, I finally watched Pirates of the Carribean II after going to the 3rd one and getting all confused...
I'm going down to Popular tomorrow to collect my Mirrorcle World Poster! Yeahness~! Can't believe I actually mastered up the courage to send an email to them to enquire about the poster issue. I'm still waiting for another 2 more things to come, and I'm really anticipating it! Whoopee! I can't wait to get my hands on the both of them! =)
A week more to graduation and still trying to figure out about what to write about it. Hadn't prepared much for what I'm planning to do. Just had another interview at CPF, and not quite sure if I'd be given that job, cuz I wasn't quite myself at the session. Totally screwed the written test which isn't gonna give me extra points.
Au Revoir
hydefied - @ 01:37

Thursday, May 08, 2008

Untold Truths
It just gotta suck that the ear block is here AGAIN. Partial deafness on the right side of my ear and I can't really hear if you were to talk softly, so much for the secrecy. I can't even hear much! Boo and that ought to SUCK!
Hogging onto the DS Lite lately, since my brother's at home (on leave) and my work has not yet come. Ho ho! Left the last trial to go and I'm proud that I didn't refer much to the faqs. All I did was try to think logically and occasionally asked my brother for some opinions. Yup! I'm glad some of my common sense are still intact!
Collection of graduation gown next Monday, and I gotta passed 2 invitation to Eugene this Friday. I am really quite lazy to meet up lei, especially when it's at night! But then, I say I'd so I should honor my promise. =)
I got website to do tonight, and I still hadn't update the video I'm supposed to edit! Blame the laziness! I've just applied for 2 more job and am going to send in my resume to the Istana, BUT I don't know how to start writing the resume and that's bad.
I thought Iron man was nice, though I've never read the comic. And maybe I should start reading comics! I'm gonna start my resume, it's now or never..
hydefied - @ 17:12

Wednesday, May 07, 2008

Oh the bother
I don't know what I'm busy with these day. Busy for the past few weeks doing video editing, and when it's done, I'd post it on my blog then. Done quite alot of changes to it, BUT THE SONG IS NICE! :) Tomorrow will be slogging to do the website already. So many request and things to be done.
Dinner with Casilda, Eugene and GC (and hopefully my scandal) this Friday! Monday to collect my graduation gown.
hydefied - @ 22:20