Tuesday, September 23, 2008

Catherine's Retirement
This will be a super long post!
Did a surprise retirement party for Cat on 5th Sep, took quite a lot of pictures but I didn't get a chance to upload them because my brother was kindly using it excessively. XD It was a 2-in-1 celebration, as it was also her birthday! I brought my brother's camera along, and there I had to be the "professional" photographer for the day. =D
cakes
Flowers
Birthday Girl~ =)
Group Photo 1
Group Photo 2
Idea of the month (Aug)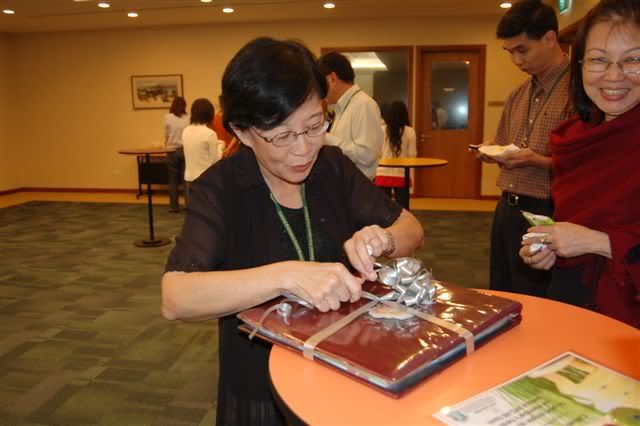 Farewell Gifts (Scrapbook with everyone's well wishes)
Cat with Ms Chui(SM)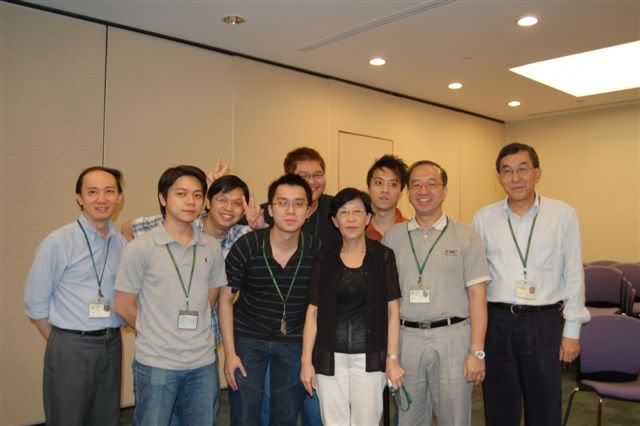 The Boys~
UW Team
Li Kheng, Cat, Louise, Amy
We head back to office and decided to take a group photo again!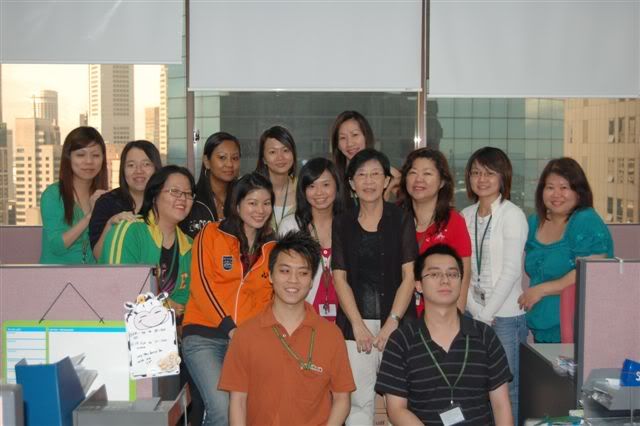 Take 1
Take 2 (the boys decided to be cheeky)
And lastly, just HPS UW team! =)
Like what they say, All good things must come to an end! Indeed it has =)
hydefied - @ 23:21

Sunday, September 21, 2008

Strangely
Sometimes you think you can, you know you can but you just can't. It's not that it is bad, just then I kinda put false hopes on others, and the invisible stress just wraps itself around you. It's not bad, cuz there's good stress too. That kind that can motivate you to perform better or whatsoever, but for me, it is kinda like the bad stress that is a big no-no.
Busy week this week, attended wedding dinner on Wednesday, Hello Kitty Lantern thingy on Thursday. Tired. XD left the Sunday to do some early spring cleaning, cuz after a few months of cleaning, my room is officially a mess again! sian
hydefied - @ 16:01

Tuesday, September 09, 2008

Reflect
I happened to went to look for Jessica at her desk and I came across this newspaper article on her desk, so kaypo me actually went to see what it was about. And I read about how Last Lecture thingy. So I was eager to get the book, and actually found that Popular was selling it. So I happily went CCK Popular but to no avail. The guy had made the orders, but the books weren't in. But thankfully, I manage to get it at MPH at Citylink Mall.
It was really about Achieving your childhood dreams, many of times, we tend to lend on to the more practical way so I guess that would have meant giving up the dreams we had since we were young. It kinda made me do some reflection. I was telling my cousin, we are all healthy and well people, but we spent alot of time being emo, letting stupid little mundane things upset us, worry about how people think/look/percieve us that we forget the joy of living, or rather the joy of being alive and able to spend the time with our family, friends. And here we have this guy who was suffering from pancreatic cancer, so filled with optimism, strength and just everything.
There are so many better things to be done, then be sad and brood over nothing. =) I shall not be that emo kid anymore.
hydefied - @ 21:03

Thursday, September 04, 2008

Emo
Made a stupid mistake, but quite a big mistake at work. Got me emo, and I actually cried in the toilet. Prolly cuz I'm too stress at work. Called me cousin to tell her about what happened, then couldn't stop crying, so prolly my colleagues know la, cause after that they keep telling me to relax and have sweet dreams. I have been having recurrent nightmares, something I have never experienced before, not even when I'm in Poly. (Well, prolly only once, during FNS common test and exam).
It's not a good sign but then just have to try not to brood over too much things, and let things go easily. Should not allow my emotions to be taken over easily. I shall try not to be such a perfectionist and let things go with the flow.
Happy! I got present ready for scandal! =))
hydefied - @ 20:31

Tuesday, September 02, 2008

Well...
Most time I thought I will be happy, but I ain't. I thought I'd be fun but I ain't. This isn't a good thing, well, deceiving myself that is. I thought I was going to enjoy it, but now I'm thinking if I am still bluffing myself.
Workload is getting heavier and heavier, plus all the extra duties that we have to do, and THANKFULLY (thank goodness) we'd be having a temp staff coming over tomorrow and next Monday, Tian Chye! =)) It seems fun sometimes but there're a whole lot of omfg things to be done and there's a dateline to everything, which is boo-hoo! =(
Had a farewell party (within our unit) last Friday. It was tiring running round to collect money, buy necessary items needed for party and also traveling to Toa Payoh Hub to get the food that we order..
I'm meeting scandal next Friday! Yeah~ ("V")
hydefied - @ 21:56